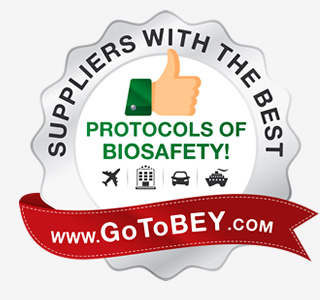 We, at the GoToBEY TRAVEL, have been working with the utmost attention and concerned with the safety of our passengers and agents, and the corporations represented by these professionals. Therefore, we launched a BIOSAFETY SEAL, with the great care and preparation of our operational and service teams. For a better presentation of products that have the best hygiene, cleaning practices and teams trained to serve our passengers. We speak of hotels, car rental companies, airlines and other service providers involved in a trip, whether it is for business or pleasure.
We understand that traveling is necessary and must be safe. We need the commitment of suppliers and the attention of passengers to the new rules, for their own safety.
This way, we have created a small booklet with suggestions for good practices so that our customers can return to programming their trips with greater security and trust in the work of everyone involved.
All of our advertisements will have our Biosafety Seal on them, whenever we receive information from suppliers on best protection practices.
Stay tuned for safety tips and contact us for any inquiries. We are prepared to respond them all.
Luggage
Prepare your suitcase with comfortable clothes that can be washed in the hotel without damaging their quality. Always take extra pieces if you have other appointments during your trip and need to change clothes a lot.
Take at least three masks for daily use and make sure they are made of materials that can be washed in the bathroom of your hotel and dry fast. If possible, take extra masks for extra measures. If you are taking disposable masks, take at least four for daily use, as you will need to change them more often because they have less durability. Also take simple plastic bags to dispose your masks.
Take small portable bottle of hand sanitizer and carry it in your pocket. If possible, take a larger bottle to refill your smaller bottle. It is important to have a reserve of hand sanitizer, as you may not find it available in every place you visit during your trip.
At the Terminal
After delivering your luggage to the airport dispatcher, do not touch the table anymore and if you had to, clean your hands afterwards. All airline companies have hand sanitizer available at their check-in counters. After picking up your boarding pass, put it in your pocket and avoid placing it on common surfaces, such as cafeterias and commercial establishments inside the airport or seats waiting areas and tables, etc.
When you arrive at your destination, wear disposable gloves to remove your suitcase from the conveyor belt, as other people have handled your luggage when boarding and disembarking. If you don't have gloves, no problem. Just follow the protocol of washing your hands or/and using hand sanitizer, that should always be with you.
In both the loading and unloading areas, pay close attention to the warnings of good hygiene and safety practices in each location.
Do not be alarmed by the employees wearing protective equipment such as masks and various PPE. In addition, they must constantly ask to measure your temperature in almost all stages of your circulation through the terminals and even when entering and leaving the aircraft.
Security and Immigration
Respect the social distance in waiting lines, from the check-in until accessing the boarding and passing through immigration center, either with the personal federal police or the self-service machines.
Attention
Respect the social distance in waiting lines, from the check-in until accessing the boarding and passing through immigration center, either with the personal federal police or the self-service machines.
Prioritize doing your ckeck-in online. This way you will have less personal contact in the airport. If you only have luggage, it can be checked by security measures, depending on each airline. But be prepared for this by taking your medicines and other items that you may need to use on board during the flight in another backpack or handbag that is not for shipping.
Before the Trip
Make sure you are fine and in good health to travel, that you have no strange symptoms, and do not feel panic or fear. Try to become familiar with the safety and hygiene protocols of your destination, as it may be different from your place of residence or departure.
Make sure you have the updated documents required at your destination, as some locations require proof of health and test results for Covid-19 along with other important documents. Please also note that you need to do this test with the correct deadline for your departure date, it cannot be too far or too close. Consult us about this information.
During your Flight
Rest assured if you find several passengers wearing more elaborate masks or PPE (Personal Protective Equipment). Inside the aircraft the air circulation is constant and air filters make breathing safer, but if you stay with your mask on you will have extra protection.
Using the restrooms is safe, they are sterilized at aircraft stops and are constantly cleaned during the flight by flight attendants. In addition, the air circling the aircraft also passes through security filtration. If you touch anything, wash your hands and replace your mask.
If your flight offers food and drinks, you can eat and drink with peace of mind. Everything is sterilized and flight attendants have their hands sanitized all the time.
Going without using the bathroom or not eating during the flight can cause you other problems and it is not recommended. Eat during the flight and use the bathrooms normally.
Seats are being marked according to the strictest possible rules, as airlines are following the guidelines of OMS and other flight security and control guidelines.